You can count on Honeywell Home to keep you on the leading edge.
Select a Model to Learn More: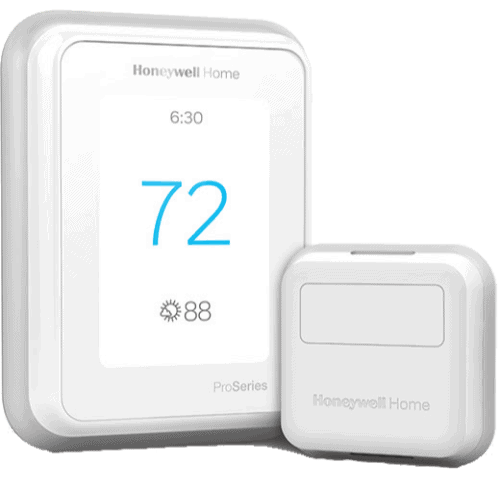 T10 Pro Smart with RedLINK™ Room Sensor
Communicates with RedLINK™ Room Sensors* to extend reach of thermostat beyond the hallway, up to 200 feet**

Controls humidification, dehumidification or ventilation

Determine a desired temperature and select specific rooms to prioritize; or allow sensors to prioritize rooms based on motion detection. ***

Energy savings through time-based scheduling and geofencing

Multi-room display allows homeowners to see the temperature of priority rooms at a glance

Connects to Wi-Fi, giving homeowners control through Honeywell Home app and integrated voice technologies. No RedLINK internet gateway required.

Works with Honeywell Home partners like Google Assistant and Amazon Alexa (more coming soon)

Easy wiring with the UWP Mounting System that's standard across all T Series thermostats

3H/2C Heat Pump + 2H/2C Conventional

Dual fuel compatible

Geofencing, 7-day, 5-2, 5-1-1, 1 or non-programmable

Demand Response program availability

ENERGY STAR® Certified

5-year warranty

Check out the full T Series lineup
RedLINK™ Room Sensor
Extends the reach of the T10 thermostat beyond the hallway

200-ft. range from sensor to thermostat**

Senses temperature, humidity and motion

Signal strength transmits reliably through most building materials

Up to 20 sensors can be connected per thermostat

5-year warranty
---
*Communicates to RedLINK™ Room Sensors (C7189R2002-2) only via RedLINK™ wireless technology, for a strong, uninterrupted connection between devices. No RedLINK™ Internet Gateway required.
**Range can vary based on home construction, wireless interference, and other factors.
***Note there is only one setpoint for heating, and only one setpoint for cooling. Motion detection does not change programmed setpoints.
---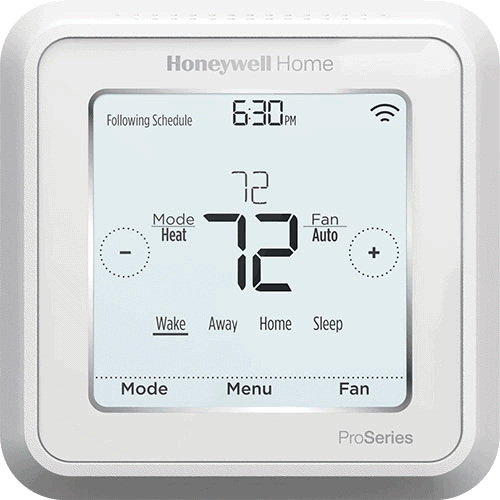 T6 Pro Smart
ENERGY STAR® Certified

Up to 3H/2C heat pump and 2H/2C conventional

Geofencing, 7-day, 5-2, 5-1-1, 1-week or non-programmable

Optional ventilation control for projects that need to meet the ASHRAE 62.2 standard

Uses the UWP mounting system that's standard across all T Series thermostats

Setup and scheduling can be done at the wall on the thermostat, or using the Honeywell Home app

Simple homeowner hand-off process enables customers to complete the Wi-Fi connection process on their own

Integrates with smart home Apple® HomeKit™ and Amazon® Echo™ for customers who want to control their smart home devices from a single app

Customers can program a schedule or use location-based control with geofence technology, which uses their smartphone location to save energy when they're away and make the home comfortable when they return

Optional wired indoor/outdoor sensors

Large touchscreen display

5-year warranty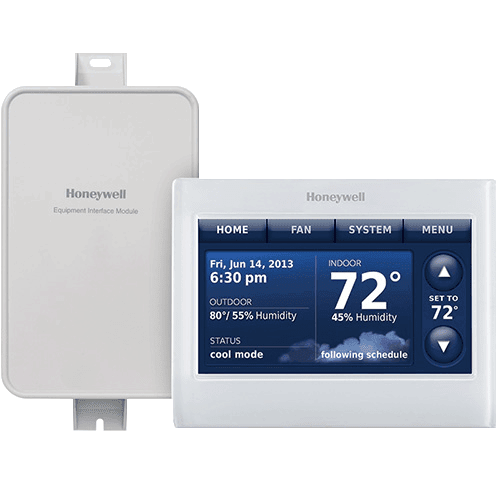 Prestige® IAQ
The Prestige IAQ from Honeywell is the choice for never-before-reached levels of success. The satisfaction your customers get with the simplicity and comfort that this solution provides through the robust RedLINK wireless capabilities will keep them coming back to your business for all their residential and light commercial HVAC needs.
ENERGY STAR® Certified

Delta T Alerts and Diagnostics inform customers when their system is not operating as expected

Residential or Light Commercial use

User Interaction Log provides a searchable history of setting changes

Assignable outputs for Indoor Air Quality and staging control

Selectable staging options

Customizable service reminders

Up to 4H/2C Heat Pump or 3H/2C Conventional Systems

Works with integrators including Amazon® Echo™ and Google Home™ for enhanced comfort, control and an even greater connected home experience

Smart Schedule feature programs in seconds for any lifestyle

Works with RedLINK accessories: RedLINK Internet Gateway / Total Connect, Wireless Outdoor Air Sensor, Wireless Indoor Air Sensor, Portable Comfort Control, Entry/Exit Remote, Vent and Filter Boost Remote, Wireless Adapter and TrueZONE Panels

5-Year Warranty

Compatible with Utility Savings Programs including Demand Response with the appropriate Equipment Interface Module and RedLINK Internet Gateway combination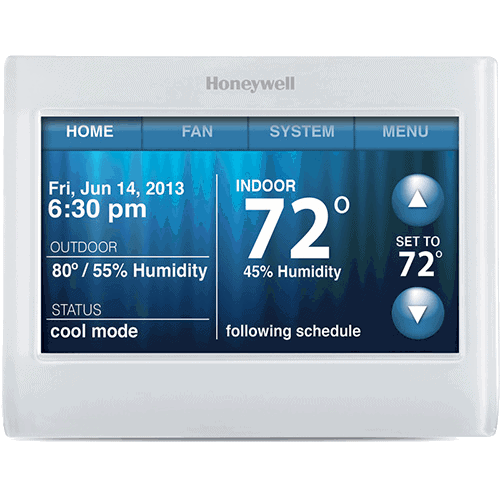 9000 Smart
ENERGY STAR® Certified

Remote comfort control via web, tablet or smartphone by connecting with Honeywell's Total Connect Comfort services

Universal Application up to 3H/2C heat pump and 2H/2C conventional

Contemporary design with customizable display color

Tool-free wiring, manual-free install and setup

On-screen Wi-Fi connection process

Equipment check/change reminders help generate repeat business

Works with integrators including Amazon® Echo™ and Google Home™ for enhanced comfort, control and an even greater connected home experience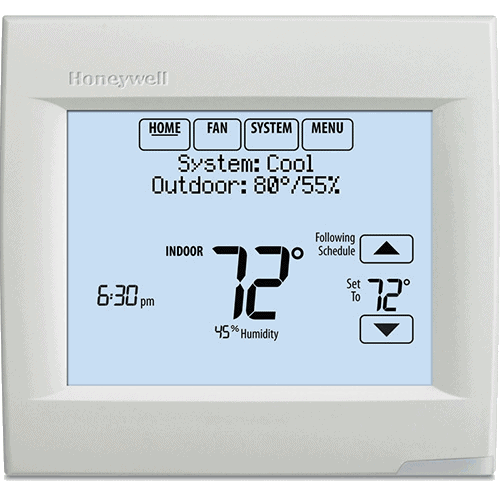 VisionPRO 8000® Smart
ENERGY STAR® Certified

Easy, plain language setup, no manual needed

Remote comfort control via computer, tablet or smartphone

Compatible with many system types, up to 3H/2C heat pump and 2H/2C conventional including dual fuel

Relay for IAQ control: indoor humidification, dehumidification or ventilation control without requiring an outdoor air sensor

Equipment check/change reminders

Built-in ventilation controller. Lockouts for temperature and humidity prevent pulling in hot or humid air. No extra ventilation controller or remote sensor needed

Easy 4-wire installs can be completed using a WireSaver, THP9045A1023. Fan and compressor are controlled through a single wire to the K terminal

Works with integrators including Amazon® Echo™ and Google Home™ for enhanced comfort, control and an even greater connected home experience
T6 Pro
Up to 3H/2C heat pump and 2H/2C conventional

7-day, 5-2, 5-1-1 or non-programmable

Uses the UWP mounting system that's standard across all T Series thermostats

Easy upsell to a connected T6 Pro Smart when your customer is ready for Wi-Fi (C-wire required)

Optional dual fuel

Optional wired indoor/outdoor sensors

Simple push-button functionality

Filter change reminders

5-year warranty
T4 Pro
1H/1C heat pump and 1H/1C conventional

7-day, 5-2, 5-1-1 or non-programmable

Uses the UWP mounting system that's standard across all T Series thermostats

Easy upsell to a connected T6 Pro Smart when your customer is ready for Wi-Fi (C-wire required)

Simple push-button functionality

Filter change reminders

5-year warranty