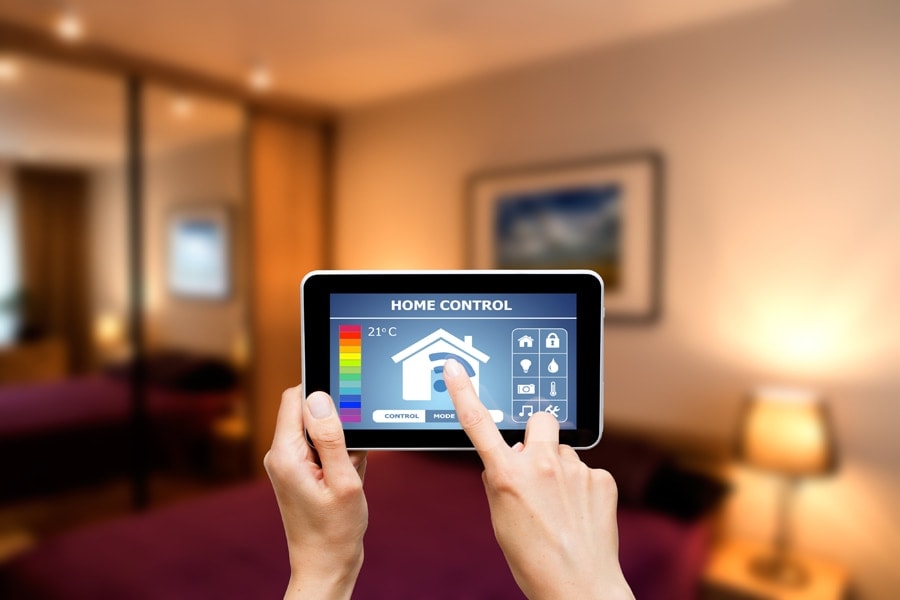 Whether you are at work, school, or in your Washington home, you have a growing tool chest of technology at your disposal. Home automation is just one of many areas to explore when it comes to investing in technology.
The affordability and increasing capabilities of home automation can be appealing to many Tacoma homeowners today. Our professionals at Kliemann Brothers want to share with you the technology now available to give you more control over things like temperature, security, and overall monitoring of your home.
How Does Home Automation Work?
Home automation is a system that usually includes hardware, software, electronic interfaces, and the internet. It's an interconnected network that gives you, as a homeowner, complete control of any connected systems and appliances. Each device you choose to add to your home automation system will have a sensor connected to the network.
These controls can allow you to do things like increase or decrease your temperature, turn on and off your lights, or lock and unlock your doors from inside your home or from a completely different location, even a city or country, using a mobile device.
Home Automation in Washington
Three main components of a home automation system include controllers, actuators, and sensors:
Controllers—These are the components of the system that communicate back and forth with your home automation devices. They can include things like desktop computers, smartphones, and tablets.
Actuators—Motors, dampers, light switches, and other parts of the home automation that control movements make up the actuator component of a this system.
Sensors—These provide you with round-the-clock monitoring of things like light, motion, and temperature. Once you program home automation devices to particular settings, your system automatically adjusts its activity to meet selected preferences.
What Can Home Automation Do?
Although the technology is still being developed in many of these areas, you can expect to find smart technology in the following categories:
Safety and security—Smart technology can help you monitor things like carbon monoxide leaks, smoke issues, water problems, and fire hazards. Security systems, video surveillance, alarms, and cameras related to protection from intruders can be managed with smart technology as well.
Energy control—With home automation technology, you can easily control things like lighting, your home's thermostat and temperature, and appliance usage remotely.
Convenience—Home automation technologies such as voice-activated control, keyless entry, and real-time text alerts are all designed to increase the level of convenience in managing and monitoring your Tacoma home.
Home Automation Improves Energy Efficiency
You are probably familiar with the common practice of adjusting your thermostat setting either at night or while you are away from your home during the day to save energy. For many years, most thermostats have allowed you to set time-and-date triggers to control your overall heating, ventilation, and air conditioning (HVAC) system, albeit at some rudimentary level.
The newest developments in temperature control can include zone control systems within the home, which allow you to set different temperatures in different rooms at different times. In addition, some home automation tools allow you to adjust your home's temperature remotely.
For example, if you have decided to return early from winter vacation, you may want to increase the temperature of your home a few hours before you arrive instead of on a preprogrammed day in the future. Smart thermostats help your HVAC system perform more efficiently. According to the US Environmental Protection Agency (EPA), you could save $180 a year on energy costs with programmed thermostat settings.
Smart Homes Boost Security
Home security today can be quite sophisticated. Gone are the days of setting a timer to automatically turn on lights at dusk and off around bedtime. Instead, you can now lock and unlock your home's front door with a few taps to your smartphone.
In some cases, you can connect an entire home security system to a central location so you can remotely monitor anything that may be suspect. Controlling your lights, opening or closing your garage door, and managing deadbolts can all be easily done from a mobile device.
Call Today for Home Automation Services!
If you want more information about home automation technology, call our professionals at Kliemann Brothers in Tacoma, WA. We are well versed in the latest smart technology available to help you improve energy efficiency, security, and convenience. Call at 253-537-0655 or request service online today.